Gold takes on a rustic elegance. And this recent trend has been hitting retailers in a big way. I recently stopped into one of my favorite local furniture stores and was blown away by the enormous visual display of all things gold!
A few years back, gold had the unfortunate stigma of being outdated. But as you know, trends always seem to come back around. This season, it's the rustic finishes of gold that are so popular. They have a subtle tone as opposed to in-your-face shine.
Remember a little gold goes a long way. Mixing gold with other metallic tones, such as silver and bronze, can create a shining combination. Gold also pairs particularly well with ivory and black furnishings for a traditional look. If you want a modern or contemporary vibe, incorporate bold colors like turquoise, orange, or a citron green.
One easy way to work gold into your decor is with textiles. As you can see in the main photo, beaded fabrics and trim on pillows offer a touch of luxury. I especially like the fact that when styles or your personal preferences change, a simple switch on the pillow cover is a low-cost way to add newness to your decor.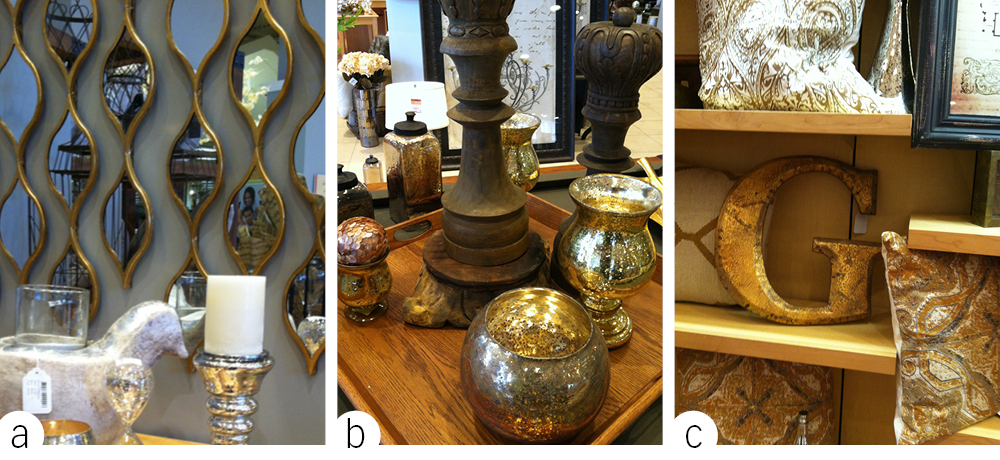 Check out a few of my other favorite gold goods:
a) Mirrors gilded with gold add reflection to any space. These mirrors are interesting in the fact that they're sold separately. You can create any size mirror you need for your space.
b) Mercury glass has been a strong trend the last couple of years. Mix this style of vases — in gold — with ironwork to get a rustic elegant look.
c) Large letters are often used to personalize a space, and this is a great opportunity to add a simple touch of gold to any bookcase or fireplace mantel.
You don't have to spend a fortune on trends. Check out these popular discount retailers for a shot of gold: HomeGoods, World Market, T.J.Maxx, and Marshalls. I was shopping at a local furniture store, Homemakers Furniture.