Figuring out whether or not a paint color is going to look good in your home can be difficult. Enter these five apps, which can do almost anything from matching an exact color in a photo to putting the paint on your walls before you buy.
Not all paint color apps are created equal. In fact, using a combination of these apps is probably the best way to narrow down which color is right for your room. We've highlighted some of the best features of each of these free paint apps.
Behr ColorSmart (iPhone, iPad, Android)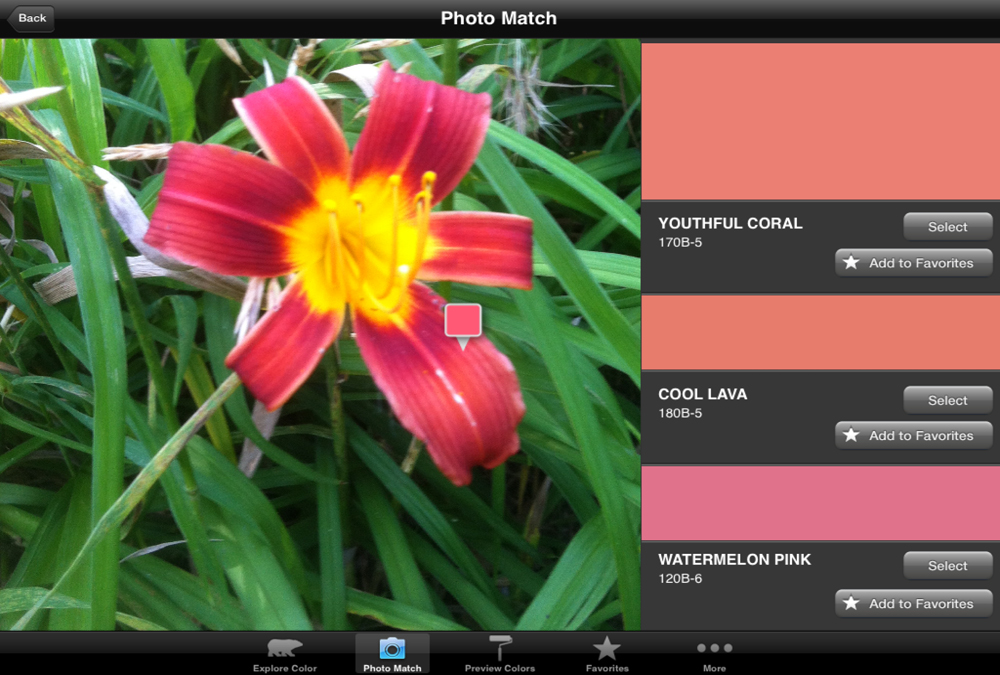 Photo Match: The Photo Match feature is quite accurate. It gives you an almost spot-on color of wherever you click in your photo, plus it gives you two other shades of that color so you can find the perfect match.
Preview Colors: With the Preview Colors feature, you can choose an example photo of a furnished room, then choose up to four colors to apply to the room. To fill the room, select your color then tap on the part of the room you want that color to be.
Paint Calculator: The Behr app also includes a comprehensive Paint Calculator. Besides being able to enter the dimensions of your room, you can include whether or not you have vaulted ceilings, and factor in an amount of touch-up paint. Plus, the calculations take into account more than just your walls — you'll get the estimated amount of paint you'll need for the trim, doors, and ceiling, as well.
ColorViewFinder (iPhone, iPad)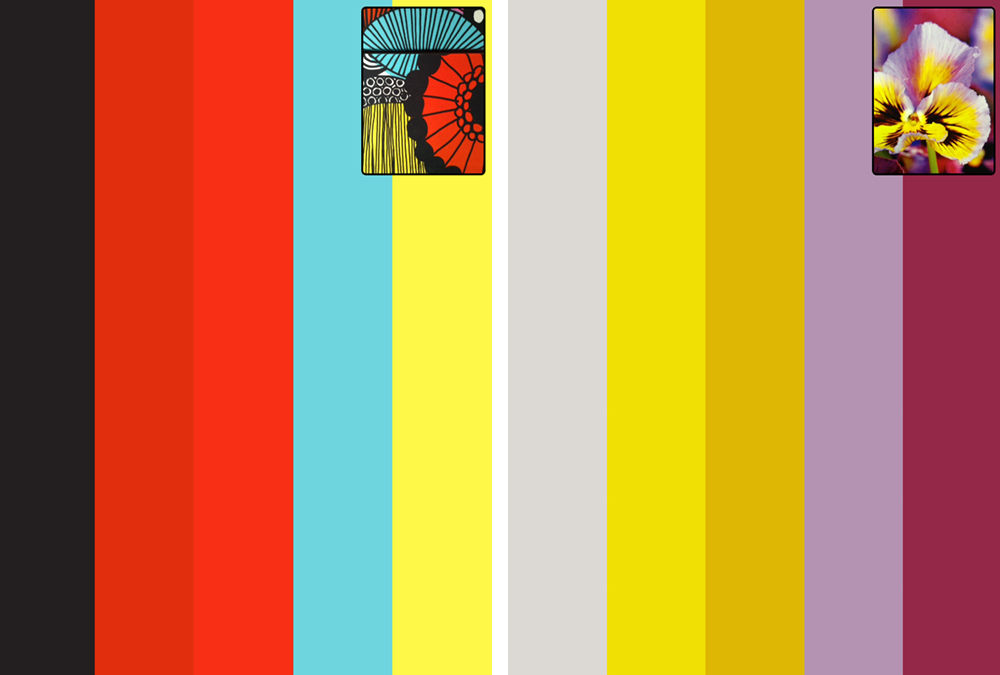 Creates Instant Palettes: Using your mobile device, focus the camera over anything — a photo, an object, a room — and the app will create a full palette (five colors) based on the colors included in the viewfinder (your camera).
Palette Options: Since it can take a little bit for the viewfinder to focus on the object and pick up the main colors, it cycles through many options of palettes. Simply tap on the screen anytime a palette pops up that you might like, and it automatically saves it while it continues cycling through potential palettes.
Glidden on the go (iPhone, iPad, Android)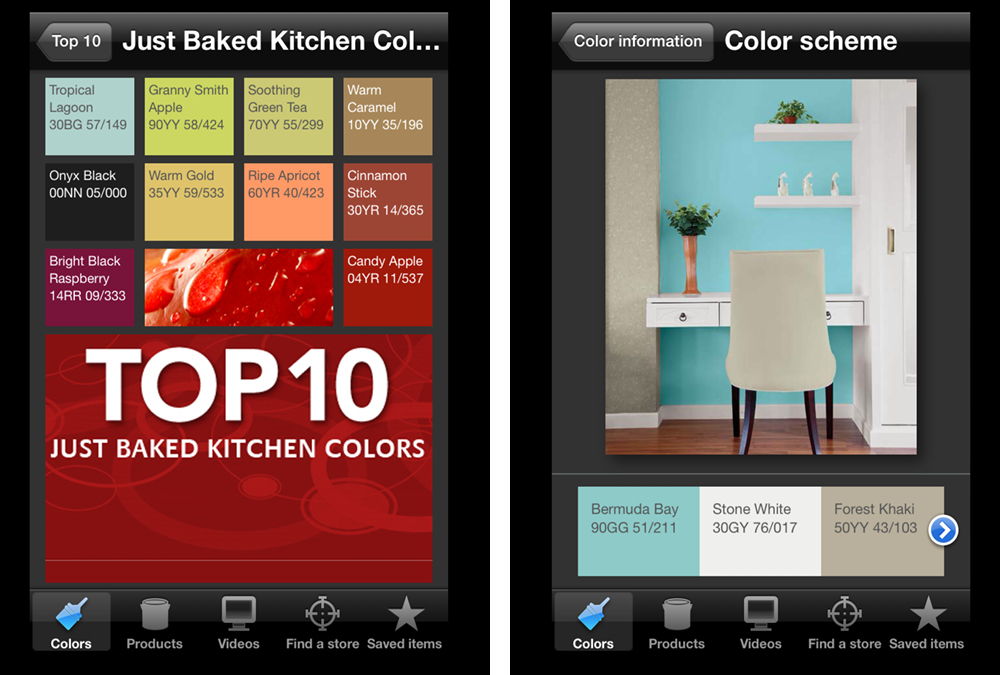 Top 10 Collections: Under the Top 10 Collections category, Glidden provides their top 10 paint colors used for different rooms and for different occasions, from popular kitchen colors, to "Feels Like Home" colors.
Find Color Schemes: Once you've chosen a color you like (from the Top 10 Collections, Match a Mood Collections, your own photo, or browsing all of Glidden's colors), you can click Find Color Schemes and the app generates a three-color palette and applies it to an example room.
Find Products: After you choose a color, you can click on Find Products to determine what type of paint is best for your project. You can even specify what type of surface you're painting, and what you're painting over, including paneling, new drywall, or a previously painted dark color.
Paint My Place (iPhone, iPad)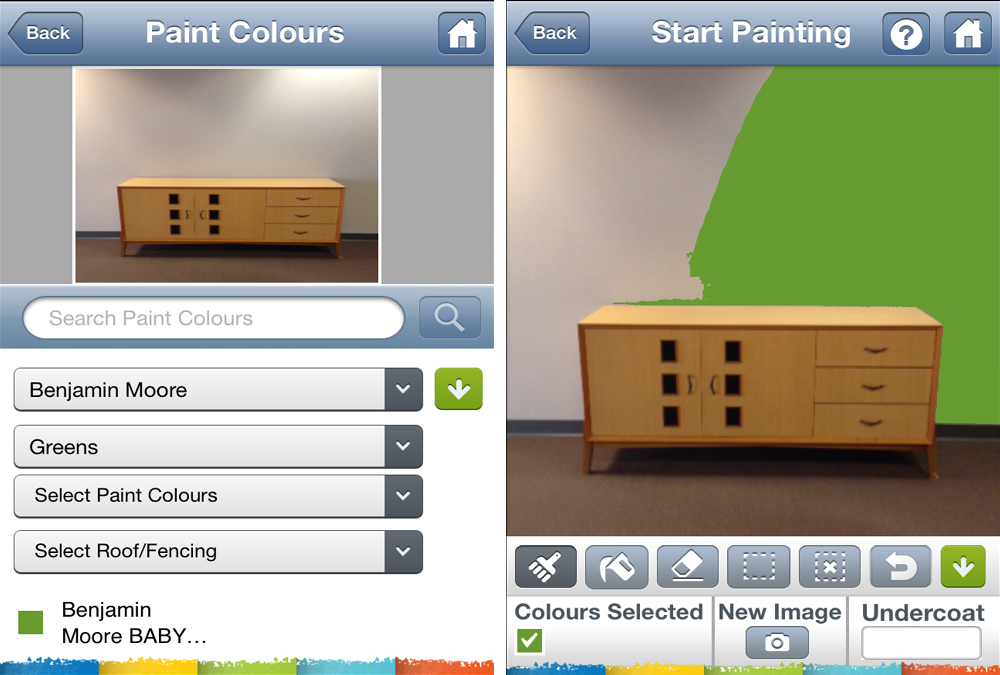 Paint the Room: With Paint My Place, you can take a photo of any room and "paint" the walls to see a preview of what they would look like in a certain color. With the free version, you can choose colors from three brands of paint. First choose your brand, then choose a color range, then a specific paint color within that range. (If you want more brands to choose from, you can upgrade the app for only $2.99.)
Detailed Painting: When applying the paint to your photo, there is a fill option, but you can also use a smaller paintbrush to fill in missed spots and spots around furniture.
Valspar Project Paint (iPhone, iPad, Android, BlackBerry)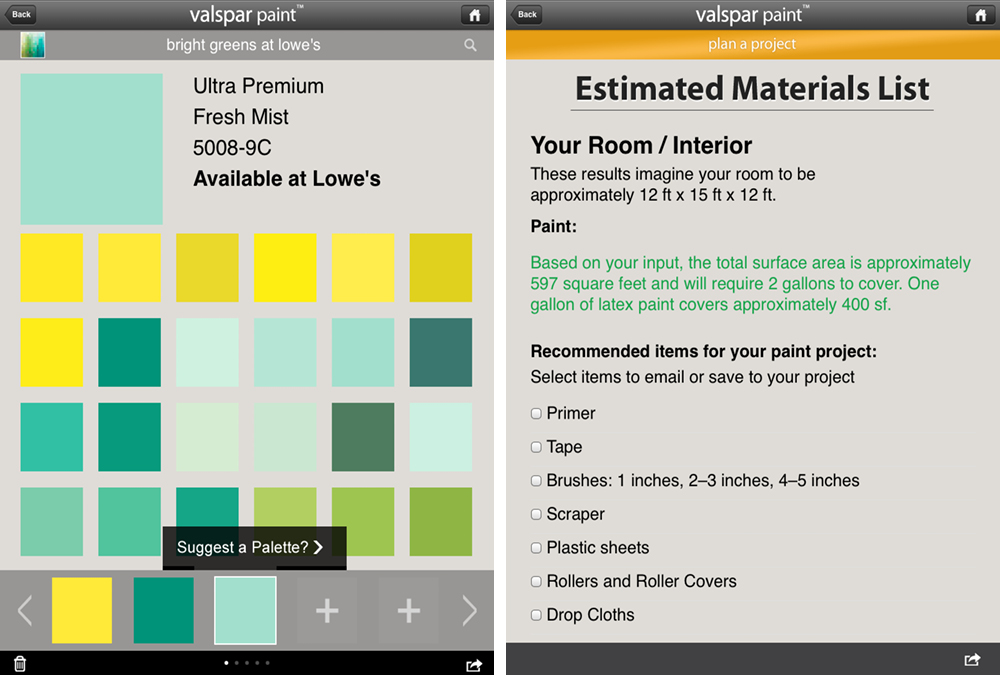 Explore Colors: Browse through hundreds of colors that are conveniently grouped into color families for you. You can add colors to the bottom color bar and save them as your own palette, or tap on one color in your color bar to have the app suggest a palette for you.
Paint Calculator: Valspar's app has a great Paint Calculator. You can enter the room size based on the exact dimensions of the room, or simply select small, medium, or large. It also takes into account how many doors and windows the room has. Once it's calculated how much paint you'll need, the app provides a materials checklist, just to make sure you have everything you need moving forward with your paint project.