In the My Home My Style studio and shop, I have access to all sorts of tools, big and small. Not that I couldn't manage, but you won't find me ripping project parts to size on the table saw — I'm much more inclined to reach for the circular saw simply because I find it less intimidating and easier to manage. This small and affordable tool is sufficient for most projects you'll see in My Home My Style.
All that said, I don't find it particularly easy to make freehand cuts with a circular saw. An edge-guide — an accessory that rides along the edge of the material to guide the saw in a straight line — is key. And the Kreg Rip-Cut shown here is a favorite among our staff. It has sturdy and smooth-sliding parts, is easy to use, and ensures accurate cuts.
To use the Rip-Cut, you simply secure your circular saw to the sled and place it on the material you need to cut. Make sure the reversible guide arm is up against the straight edge of your board, then slide the sled along the aluminum guide rail so that the red pointer at the front matches your cut line or the appropriate spot on the scale. (The Rip-Cut is large enough to handle workpieces up to 24" wide.) Then you can make your cut without worrying about the saw veering off course. And if you have another part that needs to be the same width, you can simply keep the sled locked in position.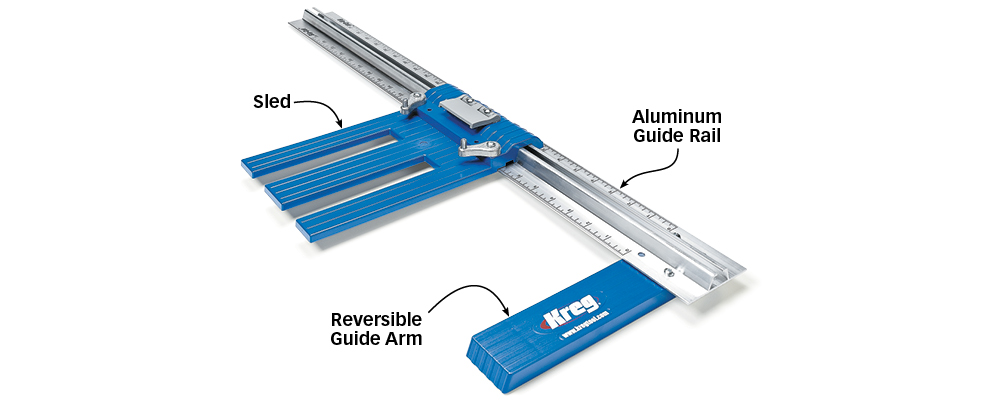 Read more about the Rip-Cut and be sure to watch the video at KregTool.com. You can order the accessory through Kreg or pick it up at Lowe's for about $35.