It isn't unusual to see a pile of ugly old furniture, decor, and novelties in our photo studio. Often, we refresh these items and scatter them throughout sets. Other times, we completely transform their look and function for features or "Find & Flip" articles. Regardless, these character-rich vintage touches are a great break from the new, mass-produced furnishings we typically fill spaces with.
Our collection of glorified garbage was getting a little sparse, so last week, we set out to restock it. We came back with all sorts of interesting finds, and we can't wait to bring our visions for them to life. (I bet you want to know what we're going to do with that gigantic tea pot, but you will just have to wait and see.)
When shopping for vintage gems of your own, know that you will come upon at least 100 terrible items for every one you actually like (exhibit A) ...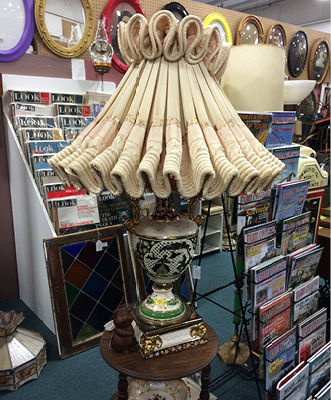 ... but the hunt is half the fun. Here are some tips for a successful shopping trip:
Antique stores are a good place to start because items are usually in pretty good condition, plus you can find things that weren't designed to be decor in the first place. If you're looking for options like old doors, window frames, ceiling tiles, and light fixtures, try a dedicated architectural salvage shop. Similar items — just not always quite as fancy — are available at Habitat for Humanity ReStores. Also, don't underestimate flea markets, garage sales, secondhand shops like The Salvation Army or Goodwill, and — my personal favorite for freebies — relatives' basements.

Have an idea of what needs you'd like to fill before you go. Maybe you're looking to create, say, a planter out of an unexpected item (hint, hint). Or maybe you want to balance your latest big-box store purchases with time-worn accents. Just don't be too specific, or you'll inevitably get frustrated.

You don't have to stick to that wish-list, though! If something catches your eye, but you don't at first think you have a use for it, think again. The coolest ways to repurpose salvaged items aren't necessarily what you'd see at first glance anyway. Assess what you like about the item and what you could potentially change. And forget any preconceived notions of what the item is meant to be.

Take photos and measurements of your home with you ... and throw the tape measure in your purse. If you have to leave and come back, the item could be sold.

Before buying anything, really think about what will be involved in turning the item into what you imagine. Does it have any structural issues? Do you have the resources needed to add any necessary components? If you're imagining embellishments, how much will they cost? Having a creative idea is one thing — make sure you'll be able to go through with it.
We'd love to hear about the salvaged treasures you find on your shopping adventures, and of course, what you plan to do with them! You can even upload before/after photos in the comments section below, if you have them.