Q: DemiZine? Did you make that up?
A: Yes, actually. My Home My Style's parent company, August Home Publishing, coined the term to represent a small (demi) magazine that's published more frequently than a traditional magazine. Parallel to that, it can be considered an acronym for "digital edition multimedia interactive magazine."
Q: Why can't I open the DemiZine and eNotes on my iPad?
A: First of all, My Home My Style is actually designed for the iPad — that's where the interactivity and photography really come to life! The My Home My Style app isn't up and running just yet, but we're in the process of building it. If everything goes as planned, the app will be available in the App Store within the next few months.
In the mean time, issues and eNotes can be viewed for free through the Flash-based DemiZine reader on our website. Unfortunately, you cannot get the full experience by visiting MyHomeMyStyle.com in the web browser on your iPad, however, because iOS devices don't support Flash. The blog and gallery function just fine, and we have a modest work-around for viewing eNotes, but the DemiZine will not be available on the iPad until the app launches.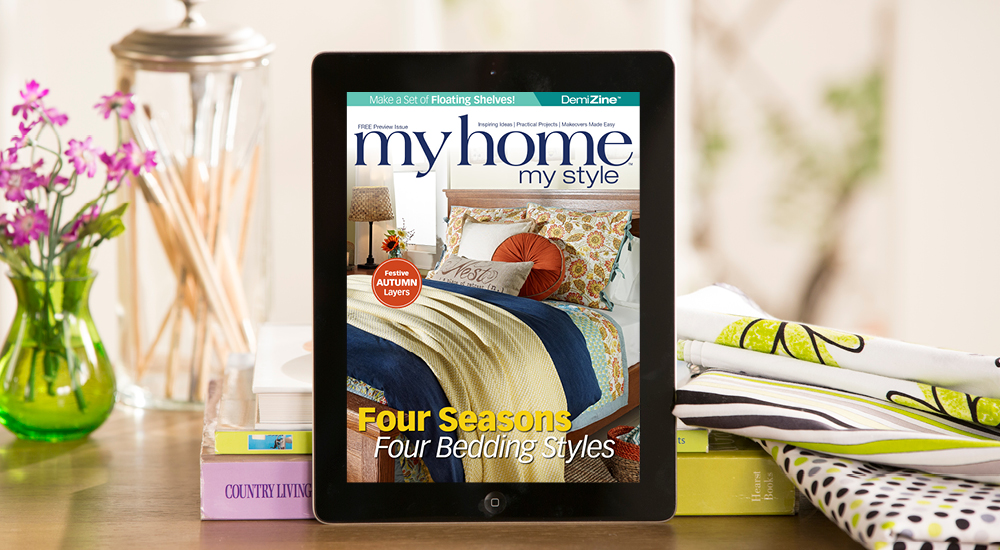 Q: Is My Home My Style free?
A: For now it is! My Home My Style has some history, but readers have never before seen it in the digital form it is today. We want people to be familiar and happy with the product before asking them to pay for a DemiZine subscription, so all of our content is free for the time being. Since My Home My Style doesn't contain advertising, we will eventually move into a paid model for the biweekly issues. A lot of content and features — such as eNotes, the blog, the gallery, and website accounts — will not require payment, though.
Q: How can I share DemiZine articles through social media?
A: You can pin, post, tweet, and share My Home My Style photos from the gallery (which allows your friends to click through to the full article), but the DemiZine reader itself is still a little anti-social at this point. In the future, you'll be able to share directly from an issue.
We're happy to keep you in the know and, in doing so, learn what's important to you. So if you have a question or suggestion of your own, don't hesitate to comment below or contact us.