Winter has arrived in the Midwest! The leaves litter the ground and the first dusting of snow has come and gone. What does this all mean in terms of my home? It means stashing away my patio furniture and hauling out the armfuls of blankets that I've collected over the years.
As I was digging in my linen closet, it struck me that it's a bit of a mess! Among all the miscellaneous blankets, I have two duvet covers, which get swapped out on a whim, and a handful of sheet sets, none of which work for both covers. It's the opposite of what we aimed for in the "Four Seasons, Four Bedding Styles" article from Free Issue No. 1. So I decided to take the advice we gave in the article, pair down my linen closet, and build a collection of quilts, blankets, sheets, and throw pillows that work year-round.
Our featured look is a Scalloped Organic Patchwork set from Pottery Barn. I love that the quilt and shams are reversible and offer multiple patterns to suit the season. Although I did like the bright colors and various floral motifs from the scalloped quilt, I wanted to find an option that would work a bit better for my home. Here's what caught my eye during my search: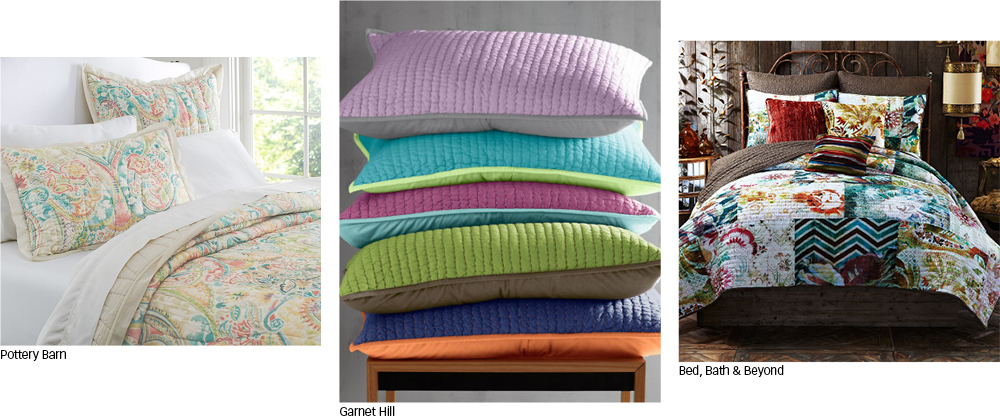 If you're keen on finding a set that's feminine but still has a subtle color palette, you might be interested in something similar to the Bethany Paisley Whole Cloth Quilt and Shams from Pottery Barn. The oversized pattern works great for the spring and summer months, while the neutral reverse provides a perfect starting point for winter textures.
I also wanted to find an option that was more understated in the pattern department, yet still had a punch of color. Garnet Hill's Flip-Side Quilt and Shams do just that. The two-tone, solid-colored sides are available in five color combinations — all of which would pair well with year-round basic linens. Plus, the fun, bright colors are the perfect backdrop for patterned throw pillows!
But at last, the set that stole my heart was the Tracy Porter Poetic Wanderlust Michaila Quilt from Bed, Bath and Beyond. I love the jewel-tone color palette, and the mix of floral and geometric patterns is just bohemian enough for my taste. While the bold pattern would be great for spring and summer, what really sealed the deal was the mink brown reverse side. The rich color is perfect for the cooler months. I can see it now, paired with a few patterned pillows and a cable-knit blanket thrown across for good measure!
Updating your bedroom linen collection isn't something you'll want to rush into. Take your time to find staples you love that you'll be able to use year-round. It's worth it — you won't have to buy bedding again for a long time.