With chalkboard paint, you can completely transform almost any project, from small decor items to entire walls. There are a lot of different types of chalkboard paints available. Which type you use really depends on your project.
No matter what type of chalkboard paint you go with, there are a couple things to keep in mind.
Be sure to clean (and sand, if necessary) your surface well, and use primer.

Apply at least two to three coats of chalkboard paint for best results.

Let larger painted surfaces cure for two to three days before applying chalk.

In order to make erasing easier, "prime" the painted surface with a piece of chalk. To prime, use the edge of a piece of chalk and cover any painted areas that you will write on. After about an hour, wipe down the areas with a damp cloth.

Chalkboard paint is typically safe on surfaces such as metal, wood, glass, ceramic, and plaster. (Just make sure to double-check the label before applying the paint.)
For our chalkboard lazy Susan, we used a spray paint. Chalkboard spray paint works well for smaller surfaces or projects with hard-to-reach places. It applies easily and dries quickly. For our spinning tray, we used Krylon). Most chalkboard spray paints come in either matte black or classic green.
If you're looking to paint a bigger surface — like a wall or a larger piece of furniture — many major brands now carry a 30 oz. option. You can even customize the color of your paint! Benjamin Moore, for example, lets you tint your chalkboard paint to match any of its colors.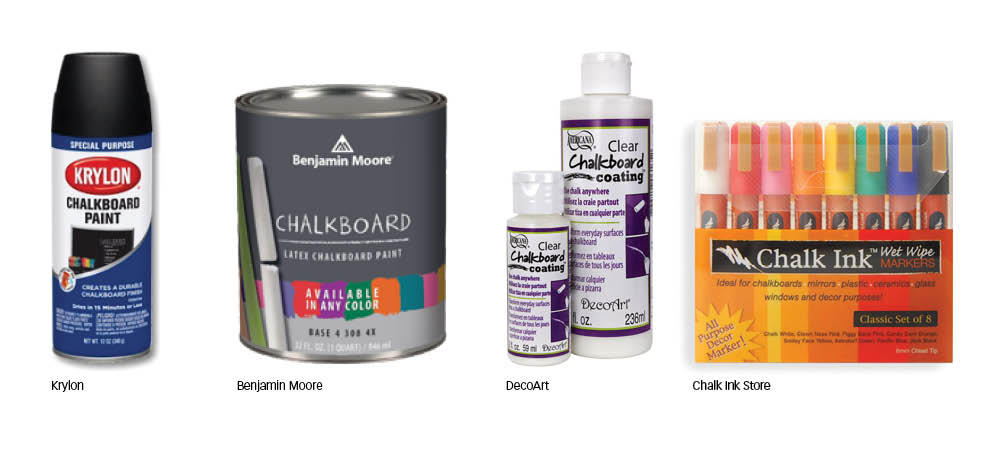 Try using acrylic chalkboard paint if your project is smaller in scale. Acrylic versions can be found at most craft stores, and come in a variety of colors. There are even clear chalkboard coatings available, which let you turn an already painted surface into a chalkboard.
Chalkboard markers are great for drawing in more detail or making hand letting look crisp and clean. They come in all different colors, they're fairly smudge-proof, and they resolve the issue of messy chalk dust. Before using chalk markers, make sure to shake them well. Also, use a damp cloth instead of a chalkboard eraser to clean your surface. The most important thing to note about chalk markers is that they only work on non-porous chalkboard surfaces, such as glass, ceramic, or metal. Even then, it is recommended to prime your surface with a piece of regular chalk before using chalk markers.
What projects have you used chalkboard paint on?